Roof Windows, Skylights, Velux, etc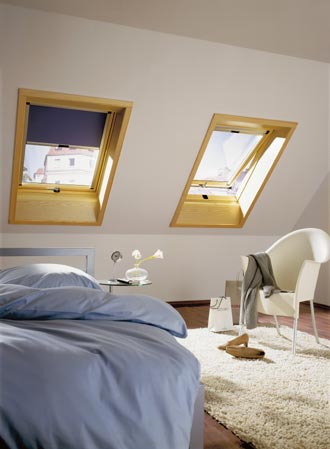 Skylights, Rooflights, Veluxes or Velux are all generic terms used by many people to describe a roof window.
Roof windows provide the most advanced and maintenance free method of introducing daylight and life into many otherwise unusable roof spaces.
Traditional roof lights have been used for many hundreds of years, but the development of the modern double glazed, fully-openable roof window has provided a very effective and economical way to get the maximum amount of light and ventilation into your loft.
Velux, although often used generically to describe a roof window, is the most well known brand name for roof windows in the world. Velux roof windows are known for their quality throughout a range that has been developed over 60 years of manufacturing. New Velux products include Velux Integra Electric Roof Windows, Velux White and the New Velux Dormer. Every product within Veluxes vast range is available to purchase through The Loft Shop. So if you wish to discuss your Velux window requirements, where better to go than The Loft Shop where you are able to speak to any of our experts on 0870 604 0404.



Colt Roto roof windows, launched in the UK over 25 years ago, have bought a new dimension in performance and design at competitive prices. Millions of Colt Roto roof windows have been installed throughout Europe, and they have a track record of proven performance.
The Loft Shop provides a range of roof windows at extremely competitive prices. Several different styles of Colt Roto and Velux roof windows are available providing unrivalled speed of installation, guaranteed stock availability, and FREE next day delivery. Colt Roto roof windows are available in both wood and PVC, and range from the 435 to the top of the range 735 and 800 series models found by clicking on the yellow 'roof windows' navigation bar to the left. The Loft Shop has the top hung, and top third hung means of escape windows available as well as centre and side pivoting models. All the Loft Shops roof windows and skylights can be installed in either slate of tile roofs.
Once you have decided the most appropriate roof window for you, the Loft Shop is able to install the product for you. Both Velux and Colt Roto roof windows can be fitted by our expert installation team. The Loft Shop also has Velux trained fitters even capable of re glazing old Velux windows for you. The Loft Shop has over 15 years experience of installing roof windows, so whether its Velux or Colt Roto, please call us on 0870 604 0404, or email us for a quote at fitting@loftshop.co.uk Subject to area.
Loft Shop 435 and 735 roof windows and skylights are manufactured in ISA9002 quality certified factories using Forest Stewardship Council certified wood for environmental security.
Features of Velux Roof Windows
Market leaders since 1941
Velux is most well known brand name in roof windows
Exceptional quality products
Technical back up and support
Largest range available
Massive range of Velux accessories
Features of Colt Roto Roof Windows
In service for over 30 years
Millions already installed
Fastest installation
Lowest cost option available
Fastest delivery - next day FREE
ISO 9002 quality certified
FSC environmental certification on most timber windows
Huge accessory range
---
Further Information Links
For further information pages, please try the following: