Roof Domes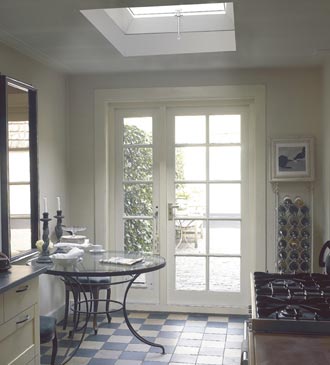 Roof domes primarily for use on flat roofs, are the ideal solution when conventional windows or roof windows do not provide enough daylight. The Loft Shop provides a massive range of sizes and styles, including square, rectangular, circular and pyramid domes. Roof domes can also provide additional ventilation, access to flat roofs, or simply a real centrepiece that can help to revolutionise otherwise dreary rooms. It is a fact that the nearer a window is to the horizontal the greater the light admittance into a room, so a roof dome is the ultimate solution to increasing daylight!
The Loft Shops roof domes are manufactured in virtually indestructible double (or treble) skinned polycarbonate, and are installed using pre-formed flashings, or up stands which combine with existing roof coverings. Roof domes can be supplied with or without the preformed upstand, with a wide range of optional accessories including sunblinds, and electric remote controls.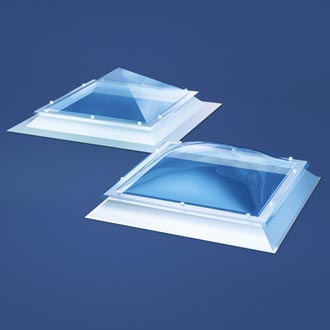 Listed below are the advantages of Loft Shop roof domes:
Polycarbonate roof domes are almost unbreakable
Roof domes are available in clear or opaque finish - clear, ex stock (GND), opaque to special order (15 days)
For use on roofs 0°- 15° from the horizontal
Can be secured permanently to upstand
Ultra violet protection against yellowing
Triple skinned domes available- prices on request
Supplied with fixings and weathertight caps
Domes pass BS476: part7: 1987 Class 1 approved
Double skin achieves a U value of 2.8 W/m2K
Triple skin achieves a U value of 1.9 W/m2K
Massive range of sizes
Velux Roof Domes
New products under the roof dome range include the Velux Sun Tunnel. This product has been very popular since it was introduced. The Velux Sun Tunnel gives natural daylight in areas of a property you may have thought impossible to reach! The Velux Sun Tunnel works by taking daylight and channelling in down a reflective tunnel and out into a room in the form of a ceiling ring!
Velux New CFB / CVP Flat Roof Windows
Also available from the Loft Shop is Velux's new flat roof windows. This innovative new solution from Velux brings large amount of daylight into a flat roof. The system is also available in conjunction with Velux Integra electrics and many other Velux accessories making Velux Flat Roof Windows an exceptional product!
So, whether it is advice or simply a chat about your latest project call us on 0870 604 0404, or visit any one of our 20 stores nationwide. Products are on display!
So whether it is roof domes for introducing much needed daylight to a room or any of our other loft products such as roof windows, loft ladders, or chimney cowls, you can get them all right here 24 hours a day!
---
Further Information Links
For further information pages, please try the following: