Roof Window Blinds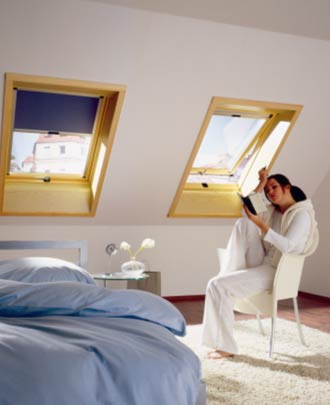 You have your roof window, but now you need your roof window blind!
The Loft Shop supplies a large range of roof window blinds for Colt Roto roof windows. Blinds within the range include blackout blinds and roller blinds most of which are in stock and available on a FREE next day delivery service.
The Loft Shop also supplies venetian and roller blinds which can be purchased through any of its 24 Loft Shop branches.
Colt Roto roof window blinds can help reduce fading of furniture, and carpets or even block out light altogether with the blackout range.
Simple to install
Choice of colours
Fixings supplied
Easy to operate
Colt Roto blinds are also available in pleated or venetian styles. They are easily installed and operated. Guide wires ensure that the blinds stay next to the glass even when the roof window is open.
If you are having difficulty in trying to decipher which size and series of roof window blind is suitable for you, please follow the following steps to lacate your serial number.
Open your roof window
Pull the sash towards you, and the serial number will be located inside a red or blue tag located in one of 2 places. Either a) on the right hand side of the top inside edge of the sash (the sash is the part of the window that moves), or b) on the right hand arm of the window, visible when the window is opened.
Once you have the serial code, please call us on 0870 604 0404, or e mail us at enquiries@loftshop.co.uk, and we will be more than happy to tell you which size and series of blind you require.
You can purchase your blinds right here at www.loftshop.co.uk.

---
Further Information Links
For further information pages, please try the following: