Guide to Converting your Loft
Converting your loft can often add value to your house. Sometimes it can even be a better option than moving, and more often than not is more economical.
Loft converting has seen a revolution in recent years as people have come to the conclusion that it is often better to move up, than move out. Instead of having to move away from family and friends, you can just add that extra room with en suite at top of the house – often becoming the most sought after room in the house!
If you like the sound of this and are thinking about having a loft conversion The Loft Shop can help you in your quest. As well as providing all the products you would associate with converting a loft, it can provide you with information to answer all those nagging questions you were afraid to ask. 'Lofts Explained. A guide to using your loft' and 'The Loft Shop guide to loft conversions and the building regulations' are two brilliant guides which help clarify some of the terminology used in loft converting as well as set out the Building Regulations behind converting a loft.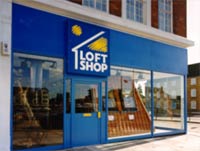 The Loft Shop sells a vast range of high quality roof windows, loft ladders, staircases, roof domes and many more products for loft conversions. All these products have one aim only – to bring light and life to a dark and unused space.
If you would like further information on converting your loft, or wish to purchase any products, you can do so right here at www.loftshop.co.uk 24 hours a day, or by calling 0870 604 0404 where one of your helpful sales staff will be happy to talk to you. The Loft Shop is also able to put you in contact with reputable builders and loft converters who have used and installed our products for years!
---
Further Information Links
For further information pages, please try the following: