Rotorvent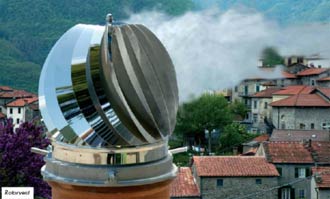 Designed and produced by Colt Cowls, the Rotorvent is widely regarded as the best spinning cowl on the market.
The Rotorvent has been designed with over 70 years experience of the aerodynamics of chimney cowls. It was developed with one prime objective:- to be most efficient and powerful quality product on the market. It is suitable for use on all types of fuel and gas, as well as being an extremely efficient ventilator.
The method of construction of revolving cowls is critical to their performance. Not only must they keep their shape and integrity, the tighter the structure, the greater the performance, but they must also operate for many years. The unique fin fixing system ensures the blades of the cowl stay where they should. External welding or rivetting of the fins has proven in the past to have failed, and so the Rotorvent uses centrifugal forces to its advantage. As the cowl revolves quicker, the tabs are forced onto the inside of the collar putting no pressure whatsoever on the weld and indeed strengthening the structure.
Technical breakthroughs in spindle design and fin fixing make this stainless steel cowl the strongest and most durable around - and the high performance of the strong 316 grade fins produces excellent draw in the chimney or ventilation shaft.
Using a unique one size base, the Rotorvent fits flue and pipe sizes from 80-250mm and can be used as a fixed product, or you can choose the additional opening unit. The tried and tested hookbolt method of fixing ensures a strong grip, and the base incorporates screw holes for additional security or when fixing to a flat surface.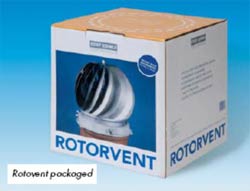 An integral rain lip helps prevent water ingress and twin enclosed bearing races filled with high temperature grease ensure maximum performance for many years.
We're so confident of the Rotorvent, it is offered with the famous Colt Cowl unconditional money back guarantee if it fails to solve your problem completely.
Fits 80 – 250mm flue sizes.
316 grade stainless steel rotor structure.
Pressure die cast LM6 aluminium base.
Tested from minus 20°C to 200°C.
Money-back guarantee.
Revolutionary fin-fixing method which combines threading the fin through the base of the structure and finishing with spotwelding (see diagram).
One size only.
The Rotorvent complies with and has been tested to BS715:1993 and does not require a birdguard for gas applications.
The Rotorvent was tested to BS715 (see certificate) which means it can also be used for a huge range of gas fired appliances. No other British Standard is required for this product.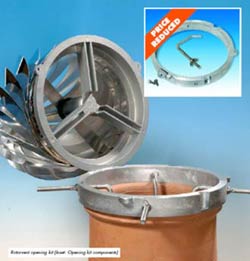 There is also an optional opening kit for the Rotorvent which fits underneath the Rotorvent base and allows the product to be opened whilst still fixed to the chimney
Integral die cast hinge opens to 90°.
Die cast aluminium with stainless steel fittings.
Simple to fit.
Integral holes for screwing to a flat surface.
Ensures there is no damage to the Rotorvent during chimney cleaning.
The entire Colt Cowl range can be seen on the Loft Shop website
---
Further Information Links
For further information pages, please try the following: